Greenery is an award-winning interior plant service & office plant leasing company serving Calgary, AB. We are a part of Pinnacle V, a North American network of like-minded plantscaping professionals.
We provide hand-selected tropical interior plants and eye-catching planters to ultra-high-end residences, select commercial and hospitality properties. We also lease office plants and provide guaranteed plant maintenance service to our clients.
Our award-winning plant leasing and maintenance services are tailored to your budget & design criteria. Our Guaranteed Plant Care Programs will assure you that your Greenery always look as great as they did when we first installed them.
We guarantee that we'll provide you with the best interior plant service in Calgary. If you'reevernot happy, we'll re-do the service. Guaranteed!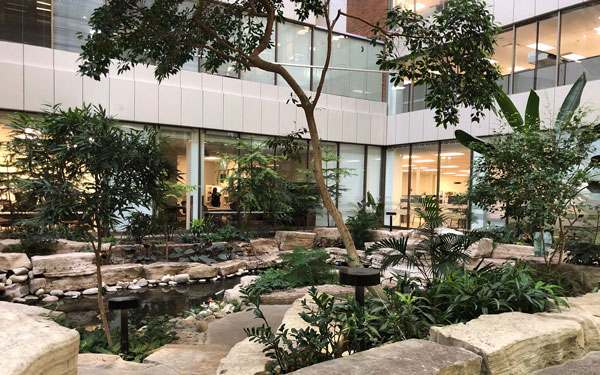 A Little Greenery History!
Since 1977, Greenery has been beautifying the offices in Calgary. Greenery is owned by a Calgarian (though admittedly a transplanted Easterner). It started as a one woman operation- delivering plants downtown in her husband's Pontiac 2+2 convertible! Today, Greenery is a thriving business that prides itself on providing the best plants and maintenance service in the city! The excellent training program operated by Greenery brings knowledgeable staff to your office to protect the investment you have made in plant material.
Greenery is a well-respected, award winning, Calgary owned company that believes that people and plants make a great combination. We are a fun company to work with, and we provide a great working experience for our staff, which makes for happier plants!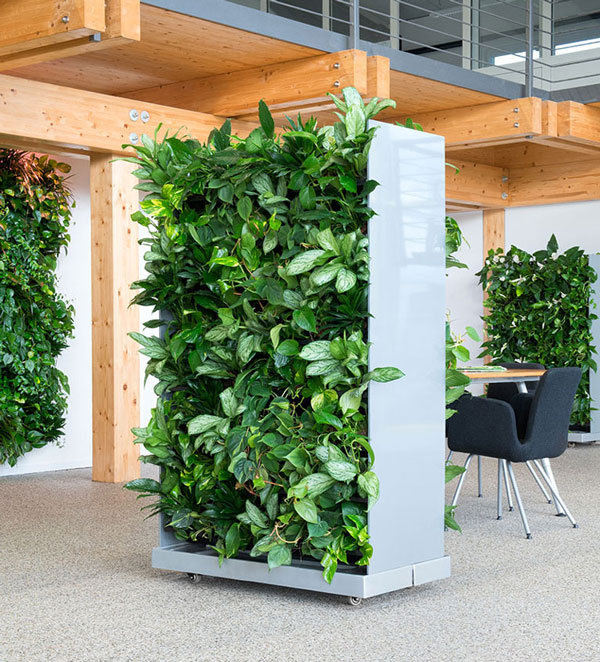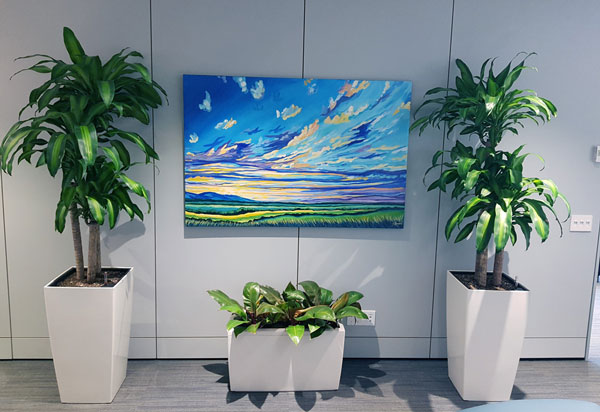 Joanne Young – President & Founder, Greenery Office Interiors Ltd.
Joanne Young, a 40+ year veteran in the Interior Landscaping Industry, is a transplanted Easterner. Growing up in Burlington Ontario, she headed to Calgary to seek fame and fortune after teaching elementary school in Ontario for 5 years. She stumbled into the industry which was in its infancy in Calgary in the late 70's and Greenery Office Interiors Ltd. was born. By focussing on excellent customer service, Greenery managed to stake a claim in Calgary and hasn't looked back.
Among Greenery's many award winning projects, two stand out with International recognition. The Winter Garden in Jamieson Place, is home to one of the largest Interior Living Walls in North America. Along with its amazing bamboo garden, this magical retreat and multi award winning project was called, the "Interiorscape Installation of the Decade". Greenery's most recent award winning Living Wall project is "The Staghorn" an amazing project built in partnership with Green Over Grey. Besides recognition for state of the art Living Walls, Greenery has also been recognized for other installations and projects such as the Nexen Atrium, The Sheraton and Hyatt Hotels and in 2014, an amazing company project of multi coloured planters for an oil company head office. With creative marketing skills and an outstanding reputation in the community, Young was named the Western Regional winner in the Canadian Women Entrepreneur of the Year in 1999. Young is often called upon to participate in Industry forums, articles for publications, judge for competitions, and a guest speaker.
In 2014, Young joined a group of exceptional Interiorscapers and founded Pinnacle V. This International Peer Group, with members throughout North America works on best-practices and the group invests in personal, professional and financial growth of their lives and businesses. Young's love of teaching and plants is now coming together as Greenery is assisting schools in the Calgary area with Living Wall installations. For more information, have a look around our site or check out www.facebook.com/greenerycalgary. Young can also be followed on Twitter as @greengaljo.